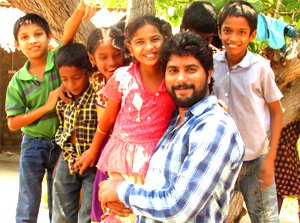 Founder : Praveen Ratna kumar
Since God visited me and called me for His ministry I have travelled and visited many villages, towns, and cities in our state of Andhra Pradesh to proclaim the good news of Christ. This is what I saw during my visits: many children roaming the streets and begging for food; some children were picking the rags to sell for food; many children are abandoned; many are sexually abused; some children are working at the small road-side hotels as dish washers; some girls are forced into prostitution; some children are stealing food at the train station or bus stations; some children are begging in front of the Hindu temples.
There are two incidents that deeply moved my heart to start Grace Children Ministries in order to help these helpless children in India. One day in the month of April, 2005, I was waiting for the bus at the bus station in the city of Visakhapatnam to go another village in order to conduct a bible class in the middle of an untouchable community of people. When I was waiting at the bus station, two street orphans, half naked, came to me to beg for food. When I saw those little faces my heart melted and I wanted to do something for them. I only had a little money in my pocket which I brought with me for food and travelling. I fasted that day and used my food money to purchase bread and bananas for these children. I also purchased new clothes for them. They were very happy with tummies full and new clothes, but didn't know what to do next. I left them back on the streets.
The second incident occurred during my gospel work in the month of August, 2005. I stopped at a small road-side hotel to have a cup of coffee. There was a girl beside me who was about 12 years old and she was washing dishes at the hotel. I asked her "why are you washing dishes here? Why don't you go to school?" She said her mother was dead and her father was with another woman and both abused her. I started talking more closely with her to know more about her life. I was shocked when she suddenly told me that she was raped by this father and this was the reason she left the home and was working here as a slave. But this hotel was also not safe for this girl. She said the hotel owner also used her as a sex slave; without sex - no food. I asked her to leave this hotel and find another one. She said "no, because every where it is same. This is what I do to survive".During this time I cannot explain how much I cried in my heart. I couldn't sleep for many months after I saw what these children faced. I wanted to do something for my Indian children, but I was hopeless, helpless, and poor myself. I was crying and praying to the Lord for Him to show me a way that I could help these kinds of children.
The result of those prayers was that Grace Children Ministries was founded in 2006.I am honorably requesting YOU to become a change maker and part of our work at GCM.
Thankyou...
The Founder of GCM.
I went over what my dreams had been throughout my life and there was one childhood dream that escaped me. It was a dream to help the orphans and destitute children in India.