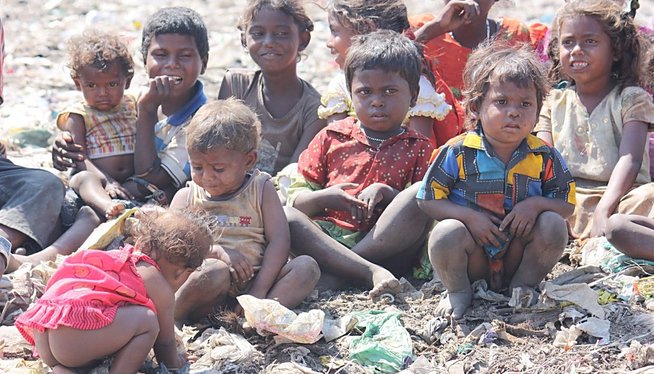 Surviving childhood in India is difficult enough with a family to care for them with one out of six children dying before age five. After losing their parents the plight of an orphan in India is one of hopelessness

Hunger is still No.1 cause of death in the world and a third of the world's hungry live in India. Each minute five Indian people die of hunger, which makes 7000 each day and 2.5 million people dying of hunger in India every year. It's no wonder that 43% of the children are forced into child labor as families try to seek out their existence.
Average income in India is less than $1/day, but poverty is more than 'how much money one has'.
a) Inadequate Food Supply
Malnutrition weakens a child's ability to resist attacks from infectious disease. It also has a negative impact on a child's cognitive development. Fifty-two percent of children in India are stunted and forty-seven percent are moderately to severely underweight.
b) No Access to Clean Water
Only 11% of people in urban India have access to improved drinking water. This leaves nine out of ten children drinking unsafe surface water they share with their animals. Only 4% of urban India has access to adequate sanitation facilities. These two factors alone are the primary causes of illness.
c) No Access to Medical Care
The health status of India is poor. The population suffers from a huge burden of potentially preventable diseases such as HIV, malaria, tuberculosis, intestinal parasites, acute respiratory infections and diarrheal diseases. Preliminary results from the 2000 India Demographic and Health Survey indicate that roughly one out of ten children die before reaching their first birthday, and one out of six die before turning five.
Orphans generally represent the poorest segment of a society and suffer most with no parents to help and guide them in their struggle for survival in an already cruel world.
d) No Access to Education
Adult literacy is at 39%. If you couple that with a net primary school attendance/enrollment of only 30%, you see a cycle that continues. Though primary schooling in India is free; for the average Indian living below one dollar a day, it's difficult to pay the required school expenses like uniforms, exercise books and school maintenance costs. Additionally, families may be reluctant to send their children to school, since they depend on their children's labor for survival. Many families do not understand the value of sending their children to school.